Memorial Day
On this memorial day I want to thank the families of those who have paid the ultimate sacrifice.
I want to remember those military men and women from every war this country has seen on this memorial day.
We so easily forget in our daily lives that we would not e free to live the way we do if not for those sacrifices.
When you bow your head in contemplative silence, you should be thanking the souls of those dearly departed.
But, though not in memorial, remember the men and women fighting to secure more freedoms for others, to protect the freedoms we enjoy and who patrol our shores to ensure our children can play in safety here.
On this memorial day, I am thankful someone fought for me.
And I'll remember my grandpap who couldn't get into the Navy because of a splinter of glass in his eye from a car accident one week before his Navy physical. On to the Merchant Marines he went. For those that don't know, in WWII the mariners faced perils the U.S. military did not. They were the supply train, the work horse, the pack mule. They were prisoner transport and emergency fuel depot. They were at the front lines, armed just as the military men were. They were brave fighting men and women, though only just recognized by the U.S. government.
So, I'll remember the mariners, many who lost their lives during WWII. And my grandpap. I'll remember him, as he was so very proud of his time in the Merchant Marine. And honored beyond words when the government finally recognized them as part of the military service.
An honored memorial day to you all, Army, Navy, Airforce, Marine, Coast Guard and Merchant Marine! To any that has lost someone in conflict - an honored and thankful memorial day to you all.
Here is a pic of my grandpap on the left and his best friend of nearly 70 years in their uniforms during WWII.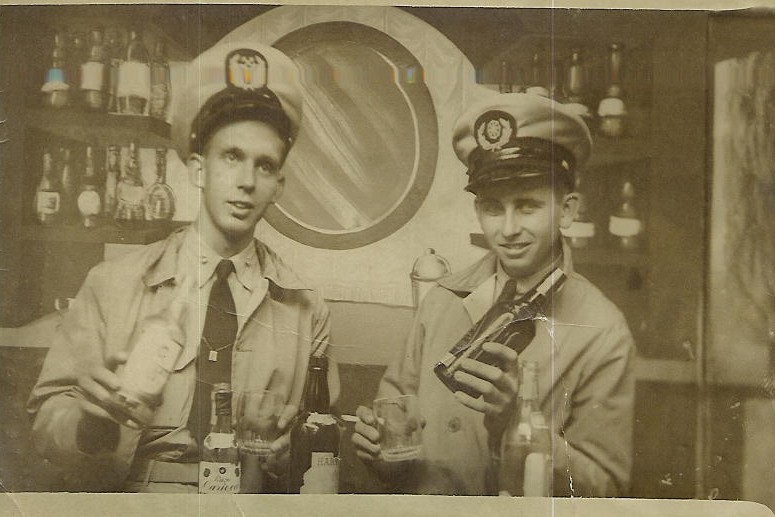 Show Comments »
Posted by Oddybobo at
07:44 AM
|
Comments (4)
|
TrackBack
» Portia Rediscovered
TracksBack with:
Memorial Day