Pictures of the Past
There is a picture on my desk at work . . . there are several actually. Each one reminds me of a time in my life when I was happy, when I was having fun, when I was loved.
Things have been rough here lately, that hasn't been a secret. The loss of my sister has reminded me that I need to tell those that I love, daily, that I love them. I LOVE YOU! You know who you are. It has also reminded me that I can't forget to have a good time and make memories, for myself, for my boys, for myself . . . Joyce had fun wherever she went and it was usually fun being with her.
I miss my sister. I miss being able to finish someone else's sentences, I miss the knowing glance that declared without words "damn, nice ass" ;) I miss giggling at inside jokes that no one else would ever get. I miss, most of all, being able to laugh at eachother and our family's quirks. Making fun of mom's broken English isn't quite as fun without my sister. . . dancing the Time Warp, singing the songs from various musicals won't be as fun either.
I have a picture . . . one picture from nearly every Christmas or summer in which my sister and I are dancing, fooling around, dancing . . . we do a lot of dancing at my house . . .
Here is one. I don't post pictures of myself, but I'm wearing her hat so you can't really see me - plus it is blurry cause it is scanned. My hair is really long there, I'm thinner, etc. This picture sits on my desk at work, if I remember correctly (by the car in the background) it was 1995 or so, at Assateague Island, Maryland. We were camping. I just arrived from Philadelphia, wearing my favorite cut-offs (and likely a bikini under that big t-shirt). I just noticed, I have pretty feet. . . ;)
I have no idea what we were doing in the picture . . . I'd guess finishing some sort of dancing. She kept this same picture with her, by her bed. I love this picture - I miss my sister.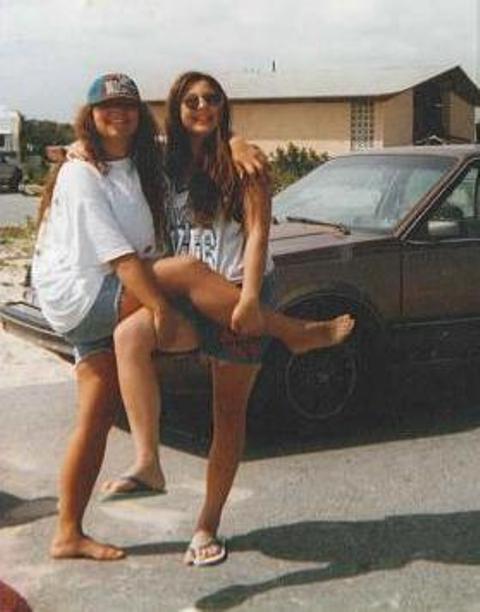 Posted by Oddybobo at June 11, 2009 05:20 PM | TrackBack