Woody Allen
I am told that Woody Allen sued American Apparel for $10 million dollars for putting up this billboard (looks like a satire/social statement to me . . .since American Apparel doesn't sell Hassidic garments) . . . Besides, as if Woody could be Der Heylikker Rebbe anyway - there's only one, and he's been dead a number of years. . . If it smells like a parody . . . must be a parody.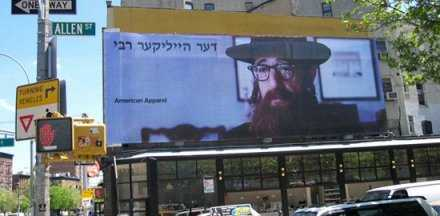 I am also told that American Apparel was forced by its insurers to settle this lawsuit for $5 million.
I keep "reading" all these stories about Woody not doing endorsements, but . . . I "saw" him in a commercial for NYC and i "saw" him in an ad in Japan in a kimono and an ad in Italy for telephones and I "read a book" that said he did ads in Europe . . . another Hollyweirdo who dismisses all of us here in the good ole USofA for the broader minds of Europe eh? *snicker*
Interesting no? I thought so. . . ahem. . .
Posted by Oddybobo at May 18, 2009 11:04 AM | TrackBack