Cotillion Time!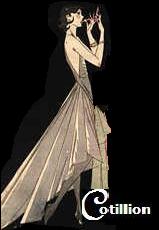 It's Tuesday, and that means it is Cotillion time. For you newbies, it is a roundup of the thoughts of some very lovely ladies in the 'sphere. This week's lovely hostesses are:
Mary Katharine Ham; Stacey; Tammy; and Right Girl.
I have been remiss and failed to post anything worthy of the Cotillion last week, but will try harder this week. But, many others posted Cotillion worthy posts, so go read them!
Posted by Oddybobo at August 16, 2005 09:31 AM | TrackBack