Going Home Again
It was the spring of 1951 in the village of Hwagal-ri about a mile from what would become known as the DMZ, in the Cherwon valley nestled between the majestic mountains of the Korean peninsula. The rice fields had just been planted and nothing was very green yet. The weather was becoming balmy and the threat of fevers hadn't yet past.
Her oldest brother was in bed with Yellow Fever and would probably die. He was 17.
Two days earlier, her father and another brother and sister had disappeared. It was rumored that the North Koreans were coming for them as they had so many local villages, but she hadn't paid it any mind. Afterall, she was 10 and was needed to take care of the new baby, a girl, just a few weeks old. Besides, the North Koreans were always around and had been "disappearing" people for the last number of years.
That is when it happened, a very distinct knock on the door, not a knock, a pounding that would never be forgotten. She could hear the shouting, questions about where her father was and then the shots. Her mother lay in a pool of blood outside their home. The soldiers had entered to execute her brother but were told in the pleading, pathetic voice of her elderly grandmother that he had Yellow Fever and was contagious. The soldiers nervously backed away, and ran from the house so as not to be sick themselves.
Some villagers attended to the burial of her mother, on a hill overlooking their home, in a traditional mound with no marker. She was gone. Who would care for them? A sick brother, a baby, an elderly grandmother, and her? She hadn't time to worry for she too fell sick with Yellow Fever and was sent to bed.
When she awoke, it was late spring and the land was lush and green. Her brother had not died, and had gone off to join the South Korean ROK Army. She was alone with her elderly grandmother and the baby. She learned that her grandmother kept the baby alive with rice water but she was not well.
She could barely stand upon her legs as the fever had taken its toll upon her body, but they could no longer stay in their home for it was now at what was known as the front line in the "conflict". She set off with her elderly grandmother and the baby with what little they could carry.
While they walked, they often were met with flying bullets and had to maneuver mine fields and mortars. They hid from the North Koreans once and thought they would surely die when a plane flew overhead. At one point, the baby's wrist was grazed by a bullet, but she did not lose her hand.
Several times along the way, she thought of leaving the baby by the road side as she was weak and the baby, now several months old was heavy. When she came to the HanTan River she spied a rock below the bridge and decided to leave the baby there, surely some other refugee would take her. She was torn. This baby was her sister. Her only real connection to her family at this moment. She would not leave her.
She proceeded to cross the HanTan river on an unsteady wooden foot-bridge laden with the child, her last link to her family, with her elderly grandmother in tow. Several times she slipped but they managed to cross the river.
It had been two days and nights, but she managed to emerge from the mountains at a small village crossroads. There, they and other refugees were met by U.S. soldiers. These wonderful men took her elderly grandmother to a medical facility and then on to a refugee camp. She would never be seen again. They gave her food and candy and a kind look and transported her and the baby to an orphanage outside Seoul.
She was able to spend a few months with her sister at the orphanage but they were separated and she was sent to work as a house girl.
She visited her sister often to ensure that they would never part. She cried at the door of the orphanage to make sure her sister was not adopted to the foreign couples lining the entry way. She wept as she saw that her sister hadn't any clothes or food to eat, and knew that she hadn't any to spare. She couldn't believe that her sister, having but one notebook, would erase the beginning of the book and start again when she had reached the end. She scraped change together now and again to buy her little sister a piece of candy or hair adornment any small token was received as a precious gift. Her only comfort was that she hadn't given into temptation and left her sister behind.
As she got older, she met another refugee and they married. She looked after her sister, still in an orphanage, as best she could, but her sister was now an unruly pre-teen. She was still comforted that she had ensured that they would not be separated. Eleven years had past, and one day she was met on the street by a neighbor who inquired the name of her long-lost brother. Coyly, the neighbor said "I know your brother, do you want to meet him?" Unsure how to react, she said yes. Her brother lived in a flat mere blocks away from her and had for years. He was married, had children and was working. She and "the baby" went to meet their brother. After 11 years, they were finally reunited, though bitter-sweet, their hearts were happy. Whether they had other family alive remained to be seen, but for now, the three of them had each other.
Twenty three years had past and "the baby" was now a beautiful woman with long, raven black hair and a penchant for gambling and alcohol abuse.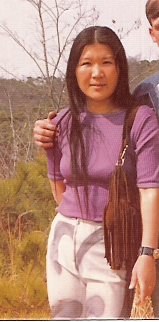 "The baby" was getting her life on track and had gotten a job at the courthouse in Seoul and had begun college classes to be a pharmacist. She would be just fine. Then one day, "the baby" brought a young man to her sister's home.
This young military man was a handsome American of barely twenty. She knew that he was a good man when he ate everything on his plate and asked for more. "The baby" seemed smitten, and had certainly never brought a man by before. She approved but had reservations. Specifically that if the relationship progressed she would actually be separated from "the baby" after all these years.
The two indeed married and while they lived in Korea for two years, the young American was about to be transferred to America. Her instincts about this young American were correct, he was indeed a good man! They were expecting their first child and there were complications. He used all of his leave staying home to care for his bride and their unborn child. In fact, for a brief time he was AWOL as he insisted on staying with his wife. He didn't get into too much trouble once the situation was explained, and the complications subsided.
The two left Korea when "the baby" was eight months pregnant. She would not get to meet her tiny niece or nephew, not at least for 30 years. . .
Nearly forty-five years after she left her home, the government of Korea granted limited access to the zone surrounding the DMZ to those who could prove their birth in that area - she was going home! Monthly, she meets and eats with friends who had resided in the same orphanage as her. Those some 50-odd years later, they still cry and sob that they could not save their siblings as she had. She is a proud woman who lives in a proud country.
She now resides in a small village a mile from the DMZ, within military checkpoints and surrounded by the famed rice fields of Cherwon-do and the streets lined with multi-colored cosmos and mums. Inside a village which proudly displayed hot, red peppers drying in the sun and bundles of sesame freshly picked she lived in a tiny two room home. It was here, not one week ago that "the baby" who is my mother, and I visited. It was here that for the first time in 54 years "the baby" returned to the place of her birth, visited the grave of her mother, and walked along some of the same path her sister had taken to rescue her 54 years ago.
It was here, that she was greeted by the extended arms of long-lost family members who had also returned to the land of their birth to remember.
The beauty of Cherwon-do has not been lost. Though the villages are long-gone, replaced by military bases, checkpoints, and minefields, the concrete jungle of the cities of Korea have not yet extended to this peaceful valley. It remains a destination for its refugees to return home to and to reunite with the souls of their dead loved ones and living family members. It was where, though 1/2 caucasian, I was embraced as an Ubong-Kimci, a long-lost sister, a loved one, a member of an extended family with many holes to fill. It is there, that my mother's heart lies.

Posted by Oddybobo at September 16, 2005 12:34 PM | TrackBack