Cotillion!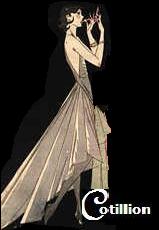 It's Tuesday, and that means it is Cotillion time. For you newbies, it is a roundup of the thoughts of some very lovely ladies in the 'sphere. You really shouldn't miss these ladies as they almost never disappoint.
This week the lovely hostess resides at The North American Patriot and she did a splendid job!
I forgot to post one for this weeks Cotillion, flog me later!
Go check out these lovely ladies.
Posted by Oddybobo at October 11, 2005 08:51 AM | TrackBack