Ten and Counting
When I was 17, I was working in a video store, one of the many jobs I held down at the time. My little sister was sleeping with this sleezy guy from a town over and he had come in to see her. He brought this guy with him. I couldn't stand him. The two of them came into the store a couple times more and with the help of some gifted jelly beans, the guy and I became friends. We were married three years later and the rest, they say, is history.
So I'd like to say Happy Anniversary to my Hubby, without whom I'd feel as if I was missing an appendage. I love you. Thank you for ten wonderful (and interesting) married years. Here's to many more.
Ahh, but you didn't think I'd leave you without giving you all an idea of who my hubby is did you? Here are some of the reasons I'm privileged to be married to him:
He laughs at my pathetic attempts at jokes;
He holds me when I'm sick;
He makes me dinners - one only sees in restaurants;
He eats Korean food;
He's my mom's favorite person;
He lets me pick food off his plate;
He eats food I can't or won't eat off my plate;
He shares his beer with me since I can't drink much anymore;
He feigns surprise and disgust when I miss a question on Jeopardy;
He holds my hand when we are driving or walking somewhere;
He tells me he loves me every day;
He calls me at least twice a day to let me know he has been thinking about me;
He clears a path in the snow for me so I won't get snow in my shoes;
He starts my car when it's cold outside;
He cuts my grandma's grass cause she's 82;
He plays with my hair when he thinks I'm sleeping;
He dances in the kitchen with me when no one is looking;
He overlooks my obsessive internet spending habits!;
He worries about me when I'm driving home at night;
He kisses me everyday;
He always makes me laugh;
He loves me even though I'm fat;
He supports my every endeavor;
He shares all the responsibilities with me;
He followed me to Philly when I went to college;
He gave me a beautiful son; and
He accepts me for me - flaws and all.
Oh sure, he steals the covers and makes fun of me when I can't find my keys, but he loves me. I was pleasantly surprised when I saw the momentary look of horror on his face as I came tumbling down the hill after bailing off the quad this weekend. I know that sounds bad, but sometimes I wonder how deeply he cares. Of course, he told me he was just worried about the quad - but I know better.
I'm also always amazed that he can even stand to be married to me - I can't even stand to talk to myself in the mirror. When we married, people told him that it wasn't a good match - that he'd feel intimidated by me or over shadowed - see, I'm an Ivy Leaguer and he didn't finish college. I work with the high-brow crowd and he's blue collar. But, he isn't intimidated by me or my successes. He doesn't care and neither do I. I couldn't be prouder of him and his accomplishments - He cooked for the Pope after all!
I couldn't be married to a white collar business man or doctor or lawyer - he couldn't be married to the ninnies he works with either. We are a good match and always have been. He doesn't envy me nor do I look down on him. We don't try to change one another and we are always supportive - we work well together.
Oh, and he makes up cheesy, and tacky songs when we road trip, and sings them to me to howls of laughter!
So, ten years ago today, at 1:30 p.m.- his buddies had a moment of silence for him, and I was married to this goofball, in a wedding gown I bought the night before, by the preacher who baptised my daddy, and the goof stuck around. Who'da thunk it?
Here we are, in all our naive glory. Man, I wish I was that size again . . . Happy Anniversary Baby, I'll let you buy dinner tonight!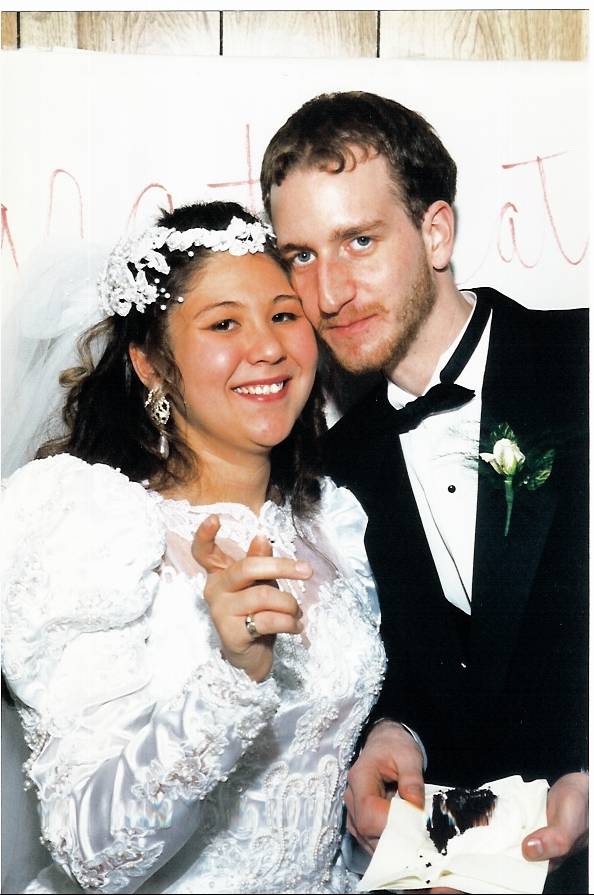 Posted by Oddybobo at November 30, 2006 01:54 AM | TrackBack