HELLO!!!
I noticed that my blog traffic has dropped off considerably. Why? I can only suspect that it is because I am shilling for Valour IT. Deal with it. Come back, come back often, donate, donate often, tell your friends, family, coworkers . . . help.
I have a friend - Chuck - he inspired this friendly competition. Now, he is, of course, playing for Team Army. I am playing for Team Navy. I have dear - dear friends playing for Team Marines and for Team Air Force. I even have a dear friend playing for the Coasties.
I could have picked any branch. My cuz . . . the one who has lived with me since he was 16 is a Navy-man. So is his brother, his dad and some other members of our families. My dad? He's an Army-man. Met my ma in Korea while he was in the Army. My uncle? He was one of two men who survived after a transport helo he was riding in was shot out of the sky by Viet Cong. He's a Marine. My grandpap was in the Merchant Marine during WWII because he had been in a car accident just before his Navy physical and had a piece of glass in his eye. The MM were activated during the War and he was on a ship that transported German POWs. I own a German .32 he pilfered off one of those POWs. Mine is a military loving family. I couldn't serve but I wanted to do so. My health would not permit it. So, instead, I serve by supporting my military friends. Here are some of my military family . . .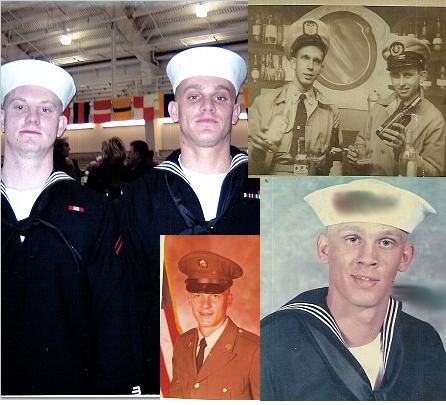 I give what I can, when I can. I thank every service man I run across and I pray for them everyday. Ask yourself if you have done what you can this holiday season. Can you spare a dollar or two? Can you put that coffee down, put those cigarettes back, drink one less beer at Happy Hour. Donate to this fabulous cause. Help make an injured service man or woman feel a little more whole. Donate below.

And for Two Dogs, while he isn't hugging them, he is stabbing them . . . I call it Ninja v. Pumpkin . . . The Ninja won . . .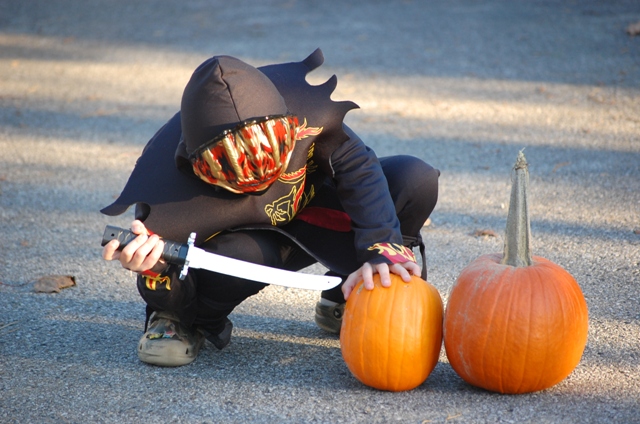 Posted by Oddybobo at November 14, 2008 12:08 AM | TrackBack