Memories
I have a motto for my life as a parent - it has nothing to do with discipline, that is my job. It is about being a teacher, making memories.
The motto is simple: "It is with the smallest memory that we smile".
I know, not poetic, but something I am known to say quite often. And when better to make memories than the summertime?
I don't get much time off - so the Hubby, Boy and I make time. We fish, picnic, camp, swim, quad, dance, sing . . . you name it.
The past two weeks have been memory weeks. My family is having personal issues that are too much to go into here or anywhere else for that matter - so I have been taking time to just snuggle at peace with my family. Plus, it is Shark Week on Discovery so there have been several late nights and much snuggling while I'm told all about the "baby black reef tip" or the hammerhead my boy just saw on t.v.
Two weekends ago I took my boys - the Boy and the Nephew - to the Linesville Spillway - "Where the ducks walk on the fish". I've been going since I was tiny - going to feed the fish bread.
It is a carp breeding and study area in the overflow of a large lake. There are so many carp that they are literally sticking out of the water waiting for you to feed them stale, moldy, bread. Every year, I make one trip out to see the sight. It is really quite breathtaking. The lake, the countryside, the wacky fish and the ducks and geese who do actually walk right over the fish to eat up some bread too. Here are a couple pictures of the fish, the boys throwing bread etc. . . They had a marvelous time. Remember, it is the small memories.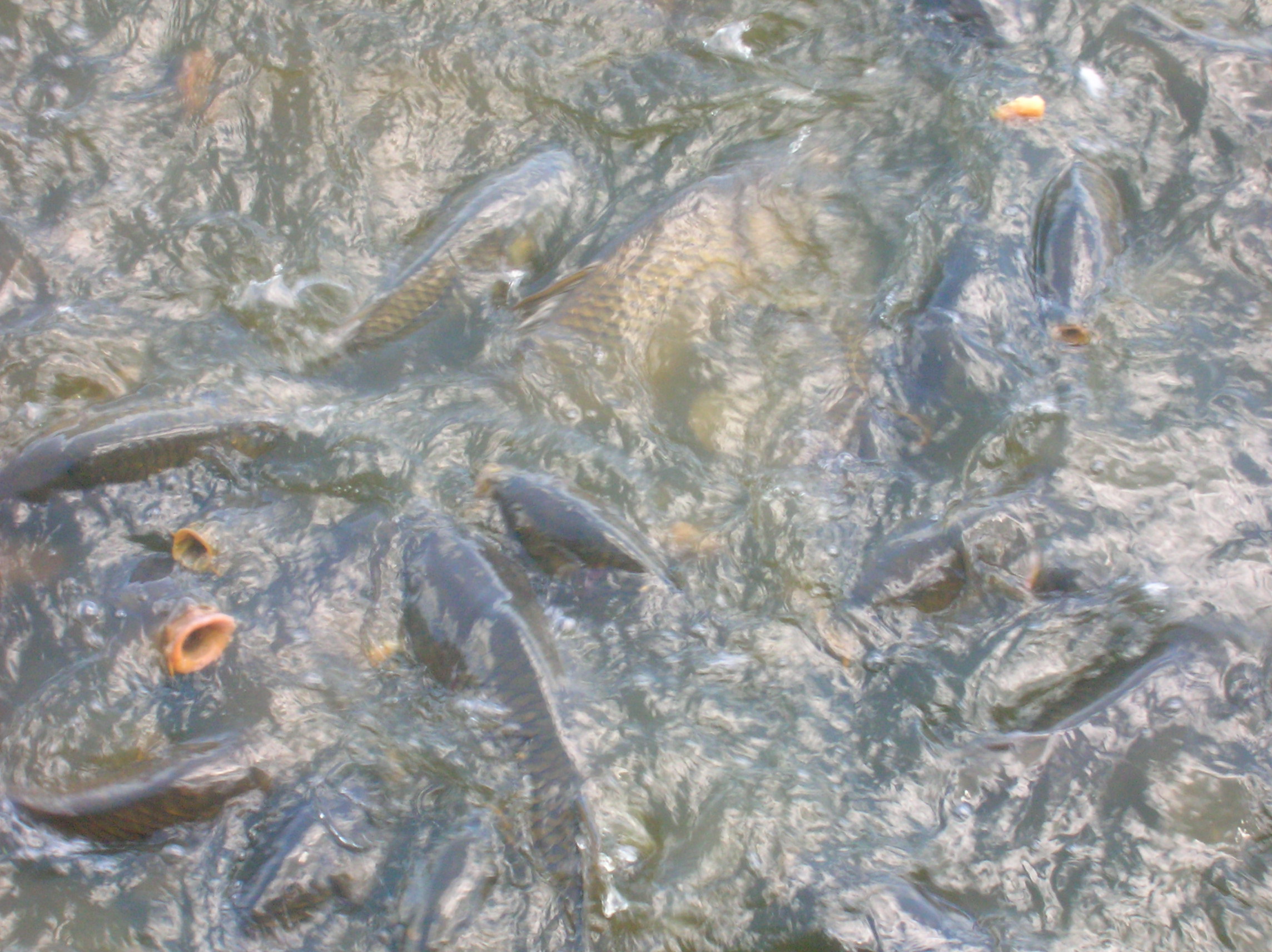 Then, this past weekend, I took a long weekend to camp with friends in the woods of Oil Creek Park in N.W. PA. I believe at last tally there were 14 adults and 11 kids on the trip.
Few people know that Oil Creek Park was the site of the first successful oil well in the WORLD.
Anyway, we camped, fished, swam, ate birthday cake and had a blast. The following pictures need explaining though. But remember - it is all about the memories.
Here we have the men-folk all fishing together.

Here we have a very happy little one enjoying his birthday cake (he just turned three). Don't you just want to scoop him up and love on him?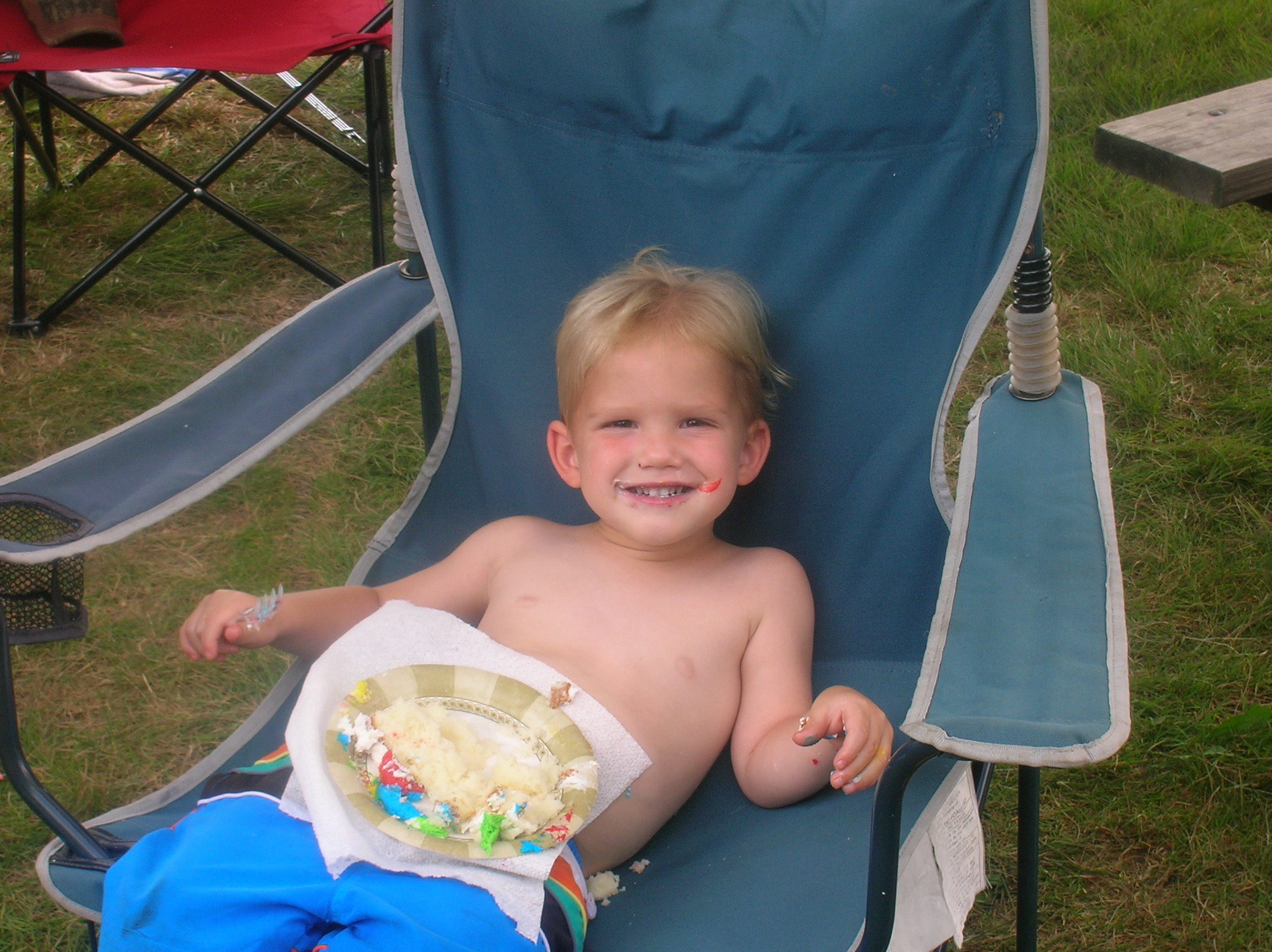 Two more smoochy boys eating cake!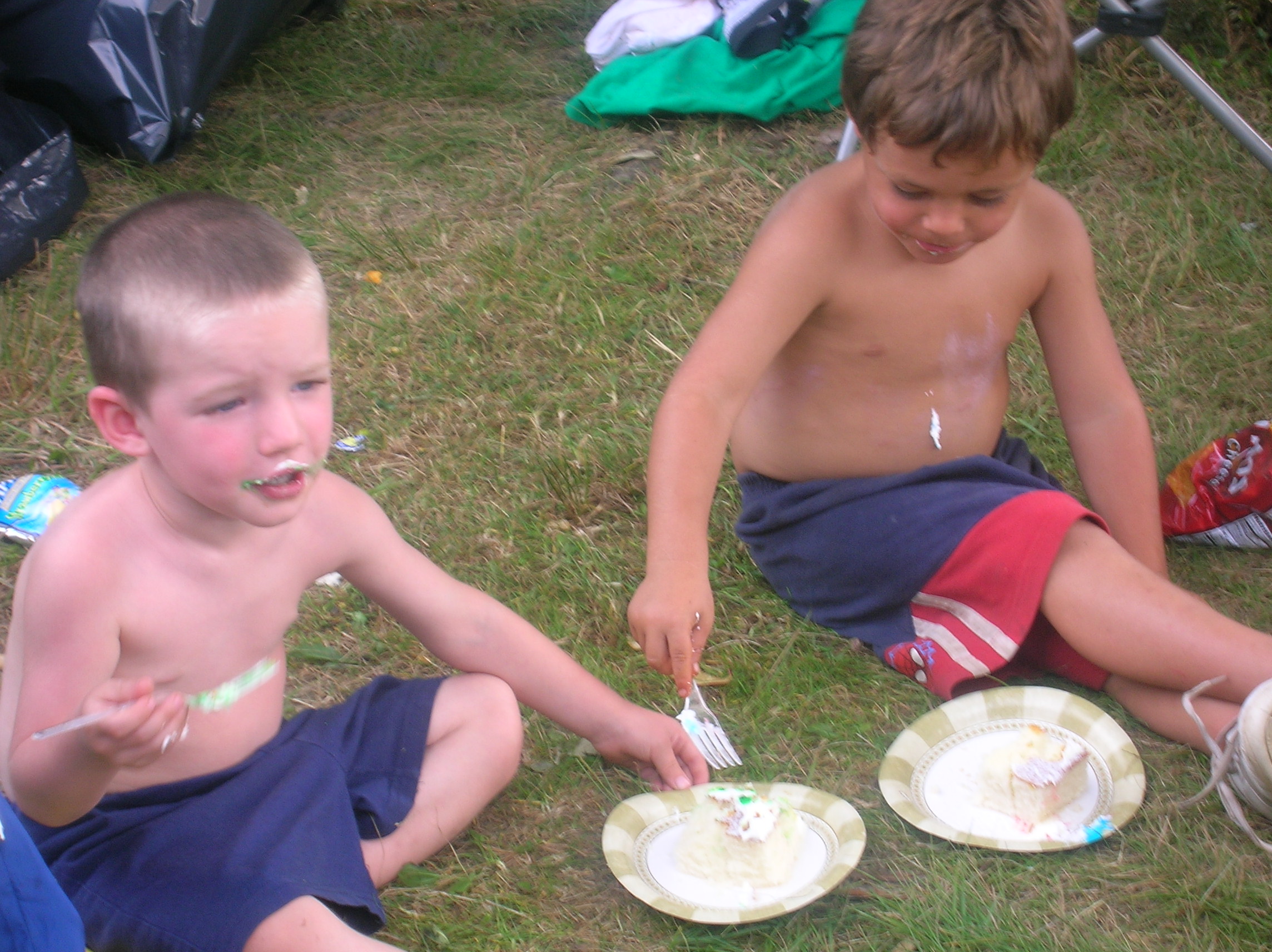 And here we have a fun sight, all the adult men-folk challenged to several games of B-ball by a bunch of teens. The "boys" our boys that is - actually won 2 of 3 games. By the third, they were so tired the younguns walked right over them! My hubby is the really tall - really white skinny guy in the back!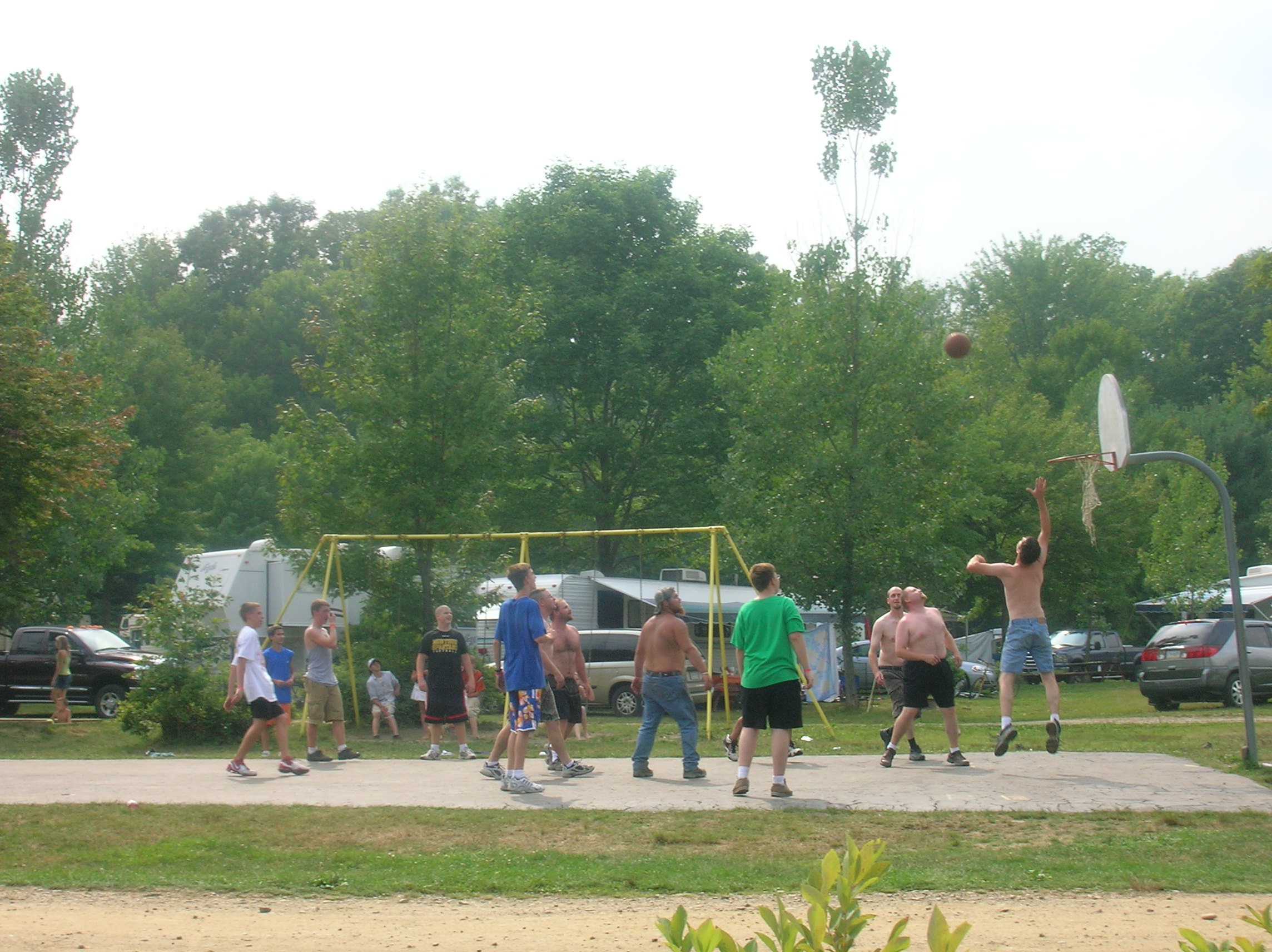 Here we have some sort of Native pow-wow and demonstration. Yes, that is the Boy dancing with a sword!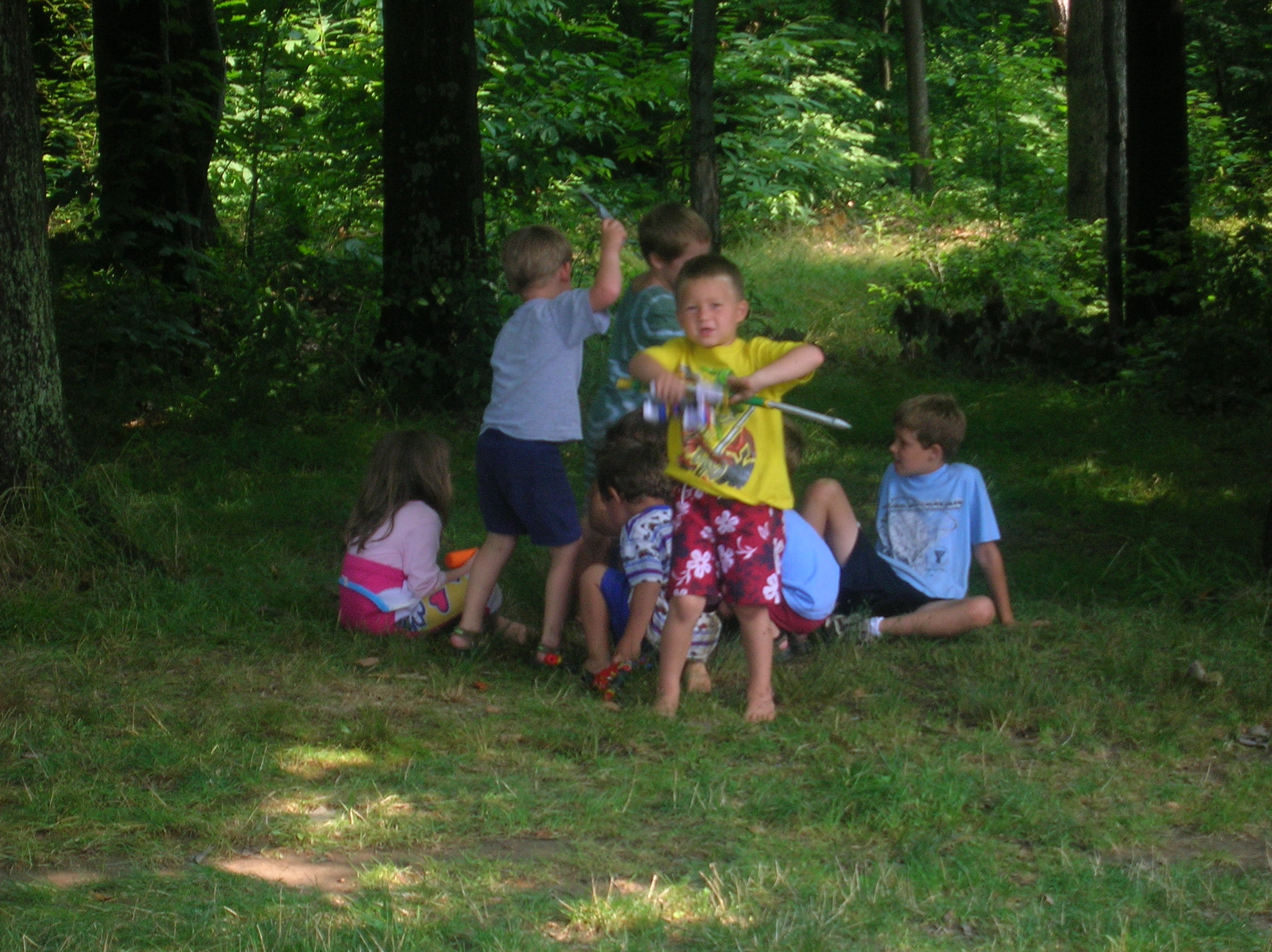 And last, but certainly not least, my pride and joy, the apple of my eye, my man - drinking a beer stuck to a toy paddle. He claimed his grip muscles were not working properly and he needed leverage. Whatever. I still love his dumb ass, and I sooo know what all our friends are getting for Christmas!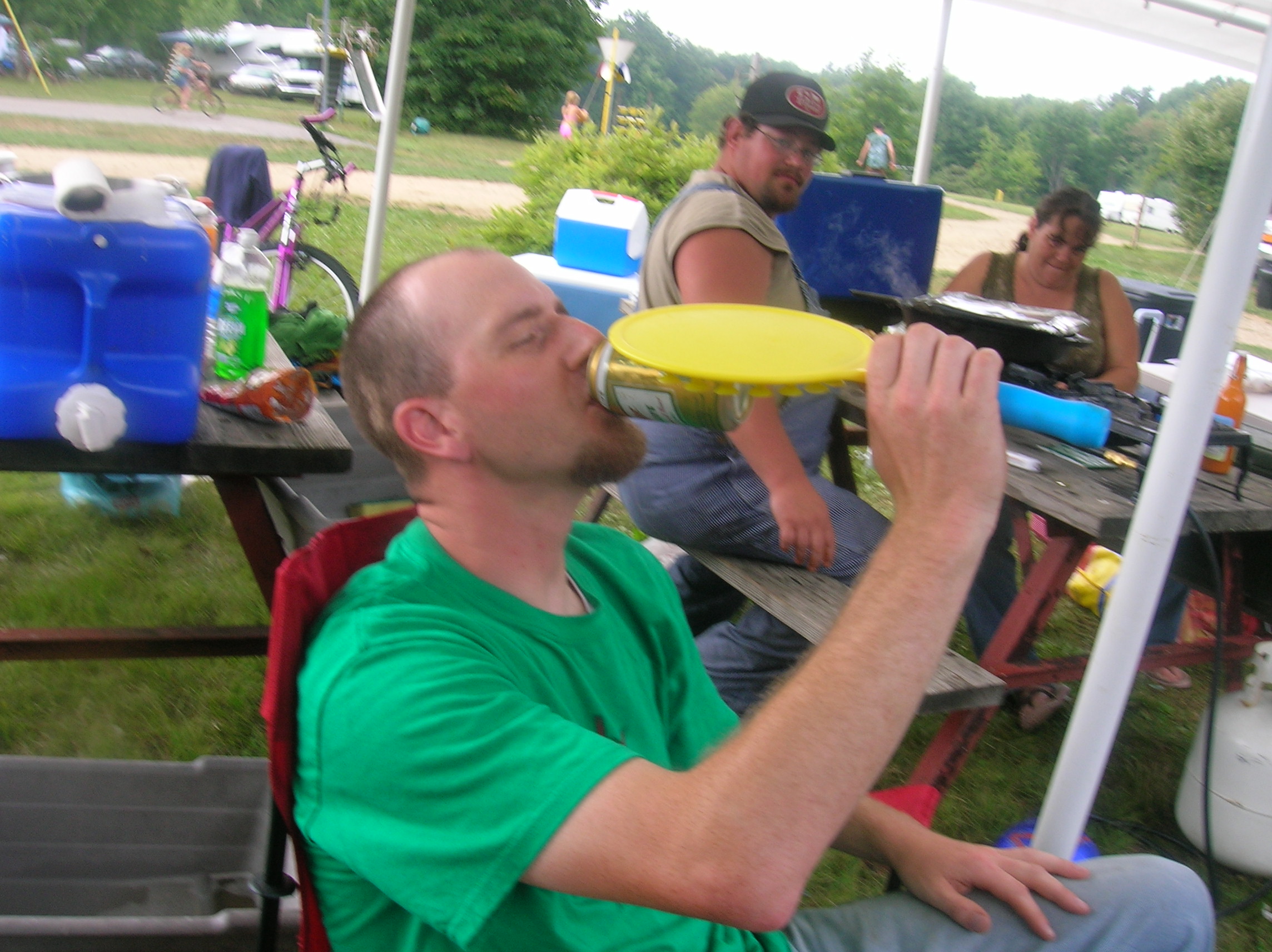 The best part about the trip, and the one I failed to capture on film is that we had a major hour-long downpour. Everything was soaked, everything was in a puddle. The children discovered said puddles happily. They ran across the field and slid through mud puddles on their bellies. They went down a big metal slide and landed in a 6-inch deep mud puddle. They splashed and played and got dirty and had fun. So, when it all comes down to it, isn't that where it is? F-U-N? Memories, the things we remember or that are triggered by a sound, a smell, a feeling, a sight - usually remind us of fun or love or family. Sure we've bad memories too, but I'm talking the ones that cause you to smile without knowing it. Memories. Go out and make one today.
Posted by Oddybobo at August 2, 2007 08:35 AM | TrackBack