11 Years Ago Today . . .
I married, at 1:30 p.m. a very wonderful man - while his fellow employees held a moment of silence. (see last years post)
I've been married 11 years today. Time flies when you are having fun - and let me tell you, we do have fun. We've been together as a couple since high school.
My house is a house of laughter. My OB told me that my son would be a happy boy because my husband was always making me laugh.
Now, you would not know it, as he is a very quiet fellow - but he is very, very funny. He and I have driven cross country - hundreds and hundreds of miles where all we did was laugh hysterically for days.
He and I once pretended to be French Tourists in British Columbia just so that I could shout out animal names in French for our amusement.
At my lowest times, and I have had a few, he has been a helpmate and friend - and always there with a smile and laugh.
But the best - the reason why my ass is three times bigger than 11 years ago - my hubby is a chef and is an absolutely amazing cook. So there!
His favorite past-time is spending time with us. The Boy and me. No other man could live with me. I could live with no other.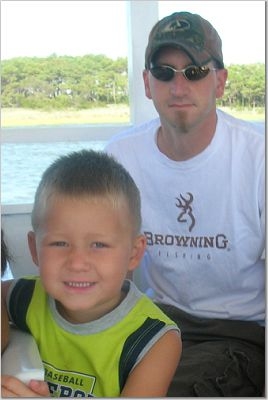 Posted by Oddybobo at November 30, 2007 09:08 AM | TrackBack